Patriotic crafts and décor are a theme that can be used most throughout the year. They are an amazing way to show your patriotism and your support for all those that sacrifice everything to serve in the military. They can be used starting in May for Memorial and used through November or even December for Veteran's Day and Pearl Harbor Day and so many holidays in between.
     Here are some fun and easy crafts you can make and display with pride.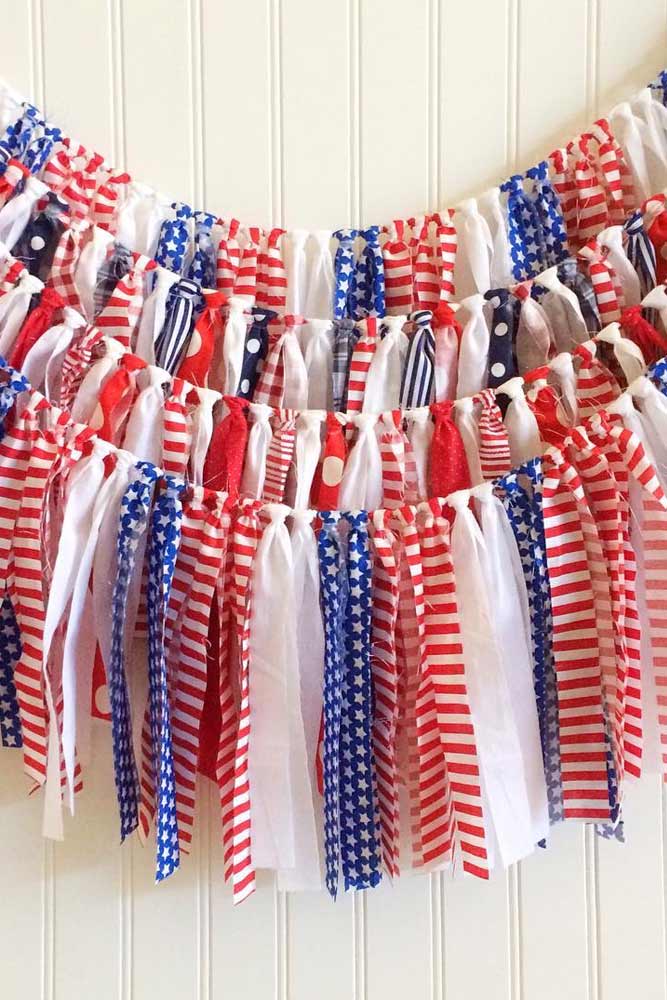 This cute, patriotic, ribbon garland can be be made with a variety of different products. You can use ripped tee shirts, ribbons, ties or torn pieces of fabric like 
Glaminati
 did in the banner shown here. Hang this inside on your wall or outside to let your beautiful creation flow in the breeze. 
     Need something cute to set on a shelf or mantle? This sweet, little framed flag is perfect for that. All you need are some scraps of ribbon, an old frame and a glue gun. 
Jackie Can't Blog
 shows you step-by-step how to make this adorable framed American flag. 
     Have some old jeans you don't wear anymore? Don't throw them away, reuse them in this USA ribbon flag. Tie the ribbons around a dowel or piece of rope. Glue on the pocket of your blue jeans and hang it with pride. 
Scratch and Stitch
 is where we got this cute idea. 
     You know wreaths are near and dear to our hearts! This patriotic bandana wreath can be made with items you can find at your local dollar store. You need any type of round wreath base and tie on your bandanas. 
Angie Holden
 shows you how she made this wreath in her
blog
. 
    Of course our FAVORITE is still a ribbon and mesh wreath! There's an endless amount of ribbon and color combinations you can use to fit any style. If designing your own is too overwhelming.
Designer DIY Wreath Kit
s make it so easy for you to make your very own patriotic wreath.